TAL15 / KOPY/TENTENKO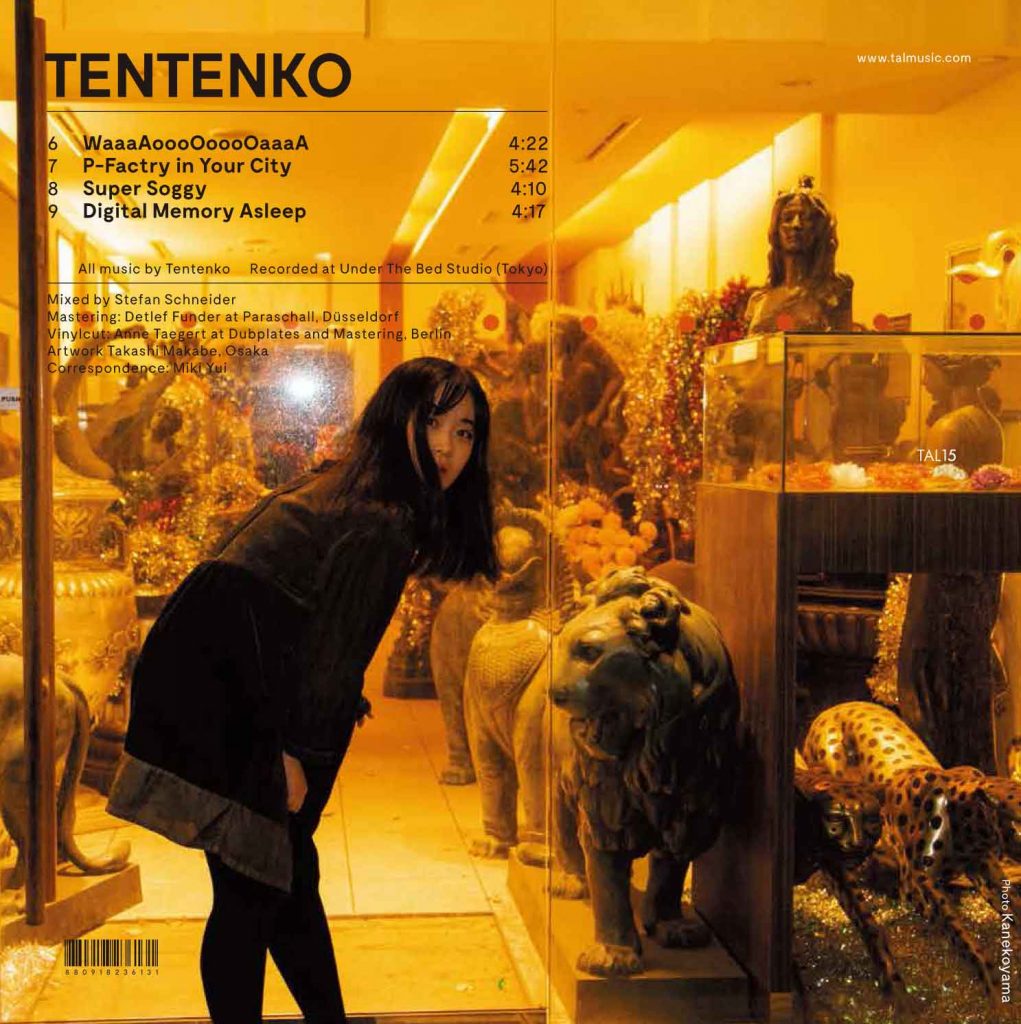 TAL15
KOPY / TENTENKO
SUPER MILD
Split album
Vinyl  / CD / DL
Release: 15 November 2019
Worldwide distribution by MORR DISTRIBUTION
KOPY
Mild Wife 3:51
KOPY in da house 2:33
Good morning 3:26
Carl 3:40
Sakyu. 4:56
All music by KOPY
Recorded at Takoyaki Jinsei Studio (Osaka)
---
TENTENKO
WaaaAoooOoooOaaaA 4:22
P-Factry in Your City 5:42
Super Soggy 4:10
Digital Memory Asleep 4:17
All music by Tentenko
Recorded at Under The Bed Studio (Tokyo)
---
Mixed by Stefan Schneider
Mastering: Detlef Funder at Paraschall, Düsseldorf
Vinylcut: Anne Taegert at Dubplates and Mastering, Berlin
Artwork Takashi Makabe, Osak
Correspondence: Miki Yui
---
This split release unites two female underground acts, both of whom have recently become pivotal parts of the contemporary electronic musical landscape in Japan. Hot on the heels of the highly acclaimed PAREDO EP compilation (TAL12), which has been released in May 2019 (and also includes contributions from Lena Willikens and Miki Yui), the SUPER MILD split album is the second outing by KOPY and TENTENKO on TAL. Their newest works punctuate their highly individual approaches to contemporary experimental dance music.
TENTENKO is a Tokyo-based electronic music producer. Her career began in 2013 when she joined the mainstream idol group BiS. Immediately after her departure from BIS in 2014 she commenced work on her solo project under her artist name TENTENKO. Since then she has radically reinvented her music away from glossy J-POP towards weird and industrial rooted dancefloor. TENTENKO first made a name for herself on the alternative japanese music scene with a steady flow of live performances as well as collaborations with members of the legendary Japanese noise band HIJOKAIDAN.
For a few years now KOPY has been an unpredictable and charismatic part of the vital electronic music scene of Osaka. She has quickly garnered a reputation for creating her live sets exclusively with borrowed electronic equipment. Her name KOPY very much originates from this "concept". Apart from a few performances at Düsseldorfs famous nightspot SALON DES AMATEURS, she has been invited by LENA WILLIKENS to her showcase at the MEAKUSMA FESTIVAL in 2018. Her sinister dancefloor mystique is heavily steeped in the free spirited noise and rhythm cultures of her hometown.
---
このSUPER MILD アルバムは、今の日本のエレクトロニックミュージックシーンで一番熱いアーティストの二人、TENTENKOとKOPYをフィーチャーしたスプリットアルバム。
2019年5月にドイツのTALレーベルよりリリースされ大好評のコンピレーション、 PAREDO EP(DJ レナ・ウィルケンスと音響作家ミキ・ユイも参加)に続く、二人にとってTALレーベルから2枚目のリリースとなる。それぞれの実験的ダンスミュージックへの個性的なアプローチが際立つ最新トラック全9曲を収録。
TENTENKOは東京をベースに、アバンギャルドなエレクトロニックミュージックシーンの一角として精力的に活躍するアーティスト。2013年にアイドルグループBiSのメンバーとしてデビュー。2014年にBiSの活動を終えた後、TENTENKOとしてソロ活動を始動。オーバーグラウンドとアンダーグラウンドを自由自在に行き来し、観客を魅了する。ソロだけでなく、伝説のノイズバンド非常階段とユニットなどの様々なアーティストとのコラボなど、それまでのJ-POPでのキャリアとは一変して、ダンスフロアにインダストリアルでラディカルな音で切り込み、独自のジャンルを切り拓いている。
KOPYは近年世界から注目される大阪のエレクトロニックミュージックシーンの中でも際立ってカリスマ性を持ったアーティスト。その名前の持つコンセプトどおり、人から借りたギアから独自の音を作り出し、想定外のスタイルで観客を圧倒する。
日本での精力的なライブ活動にとどまらず、デュッセルドルフの伝説のクラブ、サロン・ド・アマチュアにて、そして2018年にはベルギーのオルタナティブシーンの祭典、メアクスマフェスティバルにレナ・ウィルケンスのキュレーションで招聘され、ダンスフロアを狂乱させた。